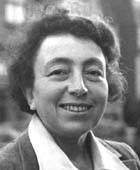 Photo of Leonore in 1936
---

To contact the author,
Dr. Gertrud H. Thompson,
email:
Dr. Leonore Goldschmidt Schule 1935-1941
---
This website presents an account of the Dr. Leonore Goldschmidt Schule, a Jewish school, which opened in 1935 in Berlin. It was closed in 1939 in Germany, but survived in England until 1941, when conditions of WWII made it impossible to continue.
The manuscript is based on research from original documents, archival information and memory of the author, Dr. Gertrud H. Thompson. The author wishes to acknowledge the assistance given by Helga Gläser and Dr. Marlise Hoff of the Wilmersdorf Museum, Berlin in supplying the microfiche of the documents found in the Potsdam archives.
The archival materials used in this story have been deposited in the Steven Spielberg Film and Video Archive of the United States Holocaust Memorial Museum, Washington, D.C.
Shortened version of this story can be found in the Leo Baeck Yearbook 2005 (http://www.leobaeck.co.uk).
---
Download the print version of the story (Acrobat Reader required)
The complete story contains 280 footnotes.
Whole story in one document (Acrobat Reader required, 600kb)
---
Ancestral family trees (Acrobat Reader required) (download free Acrobat Reader here)
Download the document "Englaender family tree" (136kb)
Download the document "Zweig family tree" (74kb)
Download the document "Goldschmidt family tree 1" (136kb)